Featured Speaker
Each year at PETE&C there is so much to see, do and learn. This year is no exception, in fact, based on last years positive feedback we have continued the exciting Featured Speaker sessions so that you get even more knowledge and ideas than ever before. Check out these Feature Speaker Sessions!
SESSIONS 1 & 2 – MONDAY, FEBRUARY 11, 2019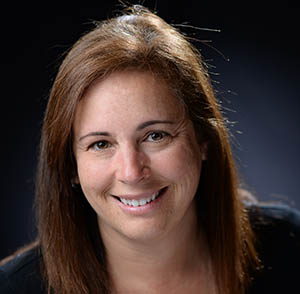 LESLIE FISHER

in the Castilian Room at the Hotel Hershey
1st session - 10:30 a.m. to 12:30 p.m.
AUGMENT YOUR REALITY: AUGMENTED REALITY INSIDE AND OUTSIDE OF THE CLASSROOM
One of the fastest growing technology practices, Augmented Reality takes places, locations and materials and adds a dimension of content and learning that has never been experienced before. Augmented Reality is not just being used in the classroom, but the boardroom, billboard, magazine, city and much much more. We will also show you how easy it is to create your own Augmented Reality.
2nd session – 2:45 p.m. to 4:45 p.m.
VIRTUAL REALITY
This class will take you bottom to top (hope you enjoyed the pun) of Virtual Reality. We will discuss what it is, why it works and what you need to get going on both exploring and creating your VR. We will also explore the different types of VR and VR headsets available. We will then take a "heads" on look at some of the most impactful VR applications available and finish with an overview on how VR is making real world impacts well.
DETAILS
:
The costs of these featured speaker sessions are included in the cost of your registration, but
PRE-REGISTRATION IS REQUIRED FOR THESE SESSIONS
****Bonus: FREE LUNCH IS INCLUDED!
Register for these sessions today by checking the boxes next to these sessions within your online
PETE&C registration
. If you have already registered, you can still register for these great sessions by revisiting your registration form and clicking on the boxes to include Leslie Fischer's featured speaker sessions.
Time
Session Code
Session Title
Speaker(s)
Room
Venue
Handout
Content Area Addressed

Tuesday, February 12

9:30 AM - 10:30 AM
EL02
All About The Rocketbook
Leslie Fisher

Crystal A
Hershey Lodge
2:15 PM - 3:15 PM
GL03
Tools You Can Use Tomorrow
Leslie Fisher

Magnolia A/B
Hershey Lodge
3:30 PM - 4:30 PM
HL03
The Google You Might Not Know About
Leslie Fisher

Magnolia A/B
Hershey Lodge