Special Sessions
Each year at PETE&C there is so much to see, do and learn. This year is no exception, in fact, based on last years positive feedback we have continued the exciting 'SPECIAL' sessions so that you get even more knowledge and ideas than ever before. Check out these 'SPECIAL' Sessions!
SESSIONS 1 & 2 – MONDAY, FEBRUARY 12, 2018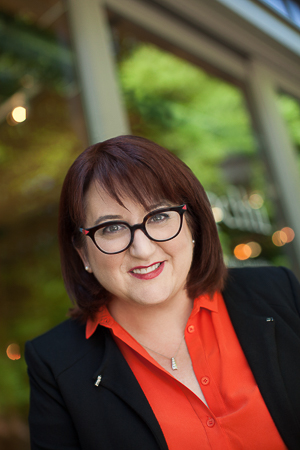 Join acclaimed author and presenter AND
'Your Nerdy Best Friend'…

BETH ZIESENIS aka "Beth Z"


in the Castilian Room at the Hotel Hershey
1st session - 10:30 a.m. to 12:30 p.m.
HOW WE CAN LEARN TO STOP WORRYING AND LOVE ARTIFICIAL INTELLIGENCE
When someone brings up "artificial intelligence," do you picture armies of robots that put you and
your fellow educators out of work? It's time to stop fearing a future where AI technology is all
around us... because that time is already here. Join Your Nerdy Best Friend for a primer on artificial intelligence and a surprising list of apps that are powered by AI. You'll leave the session with practical tools that you can start using right away to make your life easier, all powered by AI and machine learning.
2nd session – 1:30 p.m. to 3:30 p.m.
ALL HANDS ON DECK + NERDS UNITE!
HOUR 1: ALL HANDS ON DECK: HANDS-ON EXPERIENCES WITH MIND-BLOWING TECHNOLOGY
It's one thing to hear about the latest advancements in technology...but it's a completely different experience when you see it with your own eyes. Join Your Nerdy Best Friend for a hands-on session with augmented reality technology that you can start using now at work and home.
Phones on! Try your hand at augmented reality tools for translation, measuring, marketing and more!
Learn about augmented applications for your industry and others
Discuss the use of AR for your business for today and in the future
HOUR 2: NERDS UNITE! TECH TOOL AND APP EXCHANGE SESSION
Your peers are the smartest nerds around! Many professionals have their favorite time-saving, productivity-increasing, rear-kicking technology secrets. This lively, interactive session gives you and your peers the opportunity to share and discover the best technology tools. Great for both newbies and experienced experts!
Discover the best app ideas from your colleagues
Discuss real solutions to your real technology challenges with peers who have solutions
BONUS: Leave the session with a list of the best ideas from your colleagues
SESSIONS 1 & 2 – TUESDAY, FEBRUARY 13, 2018
Join author and maker education consultant…

Kevin Jarrett


for two hands-on, minds-on sessions in the Castilian Room
at the Hotel Hershey
1st session - 9:45 a.m. to 12:15 p.m.
MAKING IN THE CONTENT AREAS: HOW TO EMBRACE THE MAKER MINDSET IN YOUR CLASSROOM ON MONDAY (AND WHY YOU WILL WANT TO)
As the Maker Movement sweeps the nation, some classroom teachers fear they're missing out. Testing pressures, lack of access to a 'makerspace' per se, or generally overloaded schedules all provide plenty of incentive to resist the temptation to dive in. But what if a change of mindset is all that was needed? What if teachers saw how a single re-imagined unit or lesson could put students in charge of the learning? During this workshop, we, as a group, will explore, for multiple subjects / content areas, what adopting the 'maker mindset' actually looks like in terms of learning experience design, how to assess learning in a maker environment, and why this shift is so crucial to a 21st century education.
.
2nd session – 2:30 p.m. to 4:30 p.m.
EMPOWERING LEARNERS TO CHANGE THE(IR) WORLD WITH HUMAN-CENTERED DESIGN THINKING
The phrase "change the world" is almost a cliché these days. But what if it wasn't? What if students had a powerful, engaging and relevant context for exploring how they might actually DO JUST THAT? Good news! They do! It's called design thinking - "the mindset we adopt in service of human centered, empathy driven design." (Dan Ryder) Through a series of hands-on activities, case studies, and expert interviews, participants will explore what authentic human-centered design (HCD) looks like in leading school programs, why and how the maker movement makes it possible, and what's necessary to start and run a successful design thinking based classroom.
DETAILS
:
The costs of these special sessions are included in the cost of your registration, but
PRE-REGISTRATION IS REQUIRED FOR THESE SESSIONS
****Bonus: FREE LUNCH IS INCLUDED!
Register for these sessions today by checking the boxes next to these sessions within your online
PETE&C registration
. If you have already registered, you can still register for these great sessions by revisiting your registration form and clicking on the boxes to include Beth Z's and/or Kevin Jarrett's special sessions.
There is free transportation to the Hershey Hotel available throughout PETE&C. You can grab a shuttle from the front of the convention center directly outside general registration. Shuttles will run:
Sunday - noon – 10:00 p.m.
Monday - 7:00 a.m. – 10:00 p.m.
Tuesday - 7:00 a.m. – 11:00 p.m.
Wednesday - 7:00 a.m. – 2:30 p.m.